Vaujany offers a very wide range of accommodations: hotels, residences, rooms in private residence. More on this website: https://www.vaujany.com/en/accommodations/?type=accomodation-rental
Attention : all apartments in the residences below are now booked.
We have agreements with several residences in Vaujany "Les Hauts de la Drayre", "Le Dôme des Rousses (Odalys)" and "Les Valmonts de Vaujany", which offer group prices. Most of the proposed appartments for are for 3/4 persons. Prices are given per person for the whole week, from Saturday 29 January to Saturday 5 February 2022. If you are a group of people who want to stay together and share an appartment, please contact us directly at go.grenoble@gmail.com. We can offer you even better prices.
Residence "Les Hauts de la Drayre"
180 € per person
Appartment (2 rooms – 30m2) for 3 persons
1 living room with truckle bed (2 single beds) + 1 cabin with 2 bunk beds + 1 bedroom with double bed
Residence "Le Dôme des Rousses"
200 € per person
Appartment (2 rooms – 33m2) for 3 persons
Appartment (3 rooms – 48m2) for 4/5 persons
Residence "Les Valmonts de Vaujany"
https://www.lesvalmonts-vaujany.com
Appartment (2 or 3 rooms) for 3 or 4 persons: 220 € per person

All apartments have kitchens totally equipped with fridge, microwave oven, cooking plates, electric coffee machine, dishwasher… They all have balconies, and are very well oriented, which makes them extremely bright.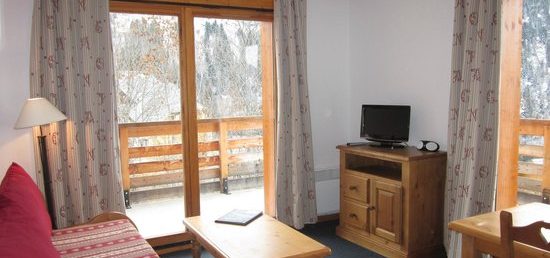 The price above includes TV and sheets. Wifi is free. One sauna or hammam session of 30 minutes is offered.
Not included: the tourist tax (about 1 € per person and per day), towels, the cleaning at the end of the stay, cleaning products.
Deposit: 500 € to be paid on arrival (credit card or check), given back immediately on departure or 15 days maximum after departure, with deduction of fees in case of degradation.
To be resident at les Valmonts allows you to benefit from good prices (-25 or -30%) for the renting of ski equipment in the sport stores of Vaujany.